Ripe Chefs Club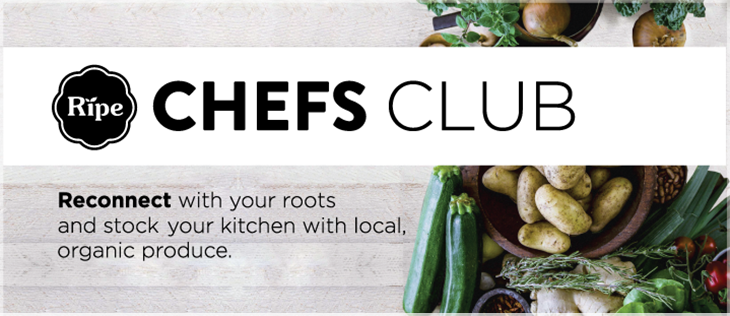 At Ripe we understand that great food can only be made with the best ingredients, and that when you prepare a meal, whether for yourself, your family or friends, only the freshest, tastiest produce will do!
Ripe is about going back to basics. Sourcing the best ingredients starts with the farmers we work with: we handpick with the best organic-certified farmers in the UAE to bring you the freshest organic fruit and veggies that have been put to the taste test.
We know chefs are just as passionate about where their ingredients come from as we are, and that's why we've created the Ripe Chefs Club. The Ripe Chefs Club is a one-stop spot to help professional chefs reconnect with their roots, by providing them with local, organic produce for personal use, and giving them chef-worthy perks, while connecting them to the Ripe foodie community.
Benefits:
10% discount on Ripe orders above 150 AED (discount can only be availed by calling our office to place your order)
Exclusive farm visits and education about Ripe products and organic, local, seasonal farming
Opportunity for chefs to showcase themselves at our markets, including workshops or a live cooking station
Opportunity for chefs to feature on our blog and social media, including interviews, recipes, foodie advice, health advice, etc
Opportunity to participate in Ripe competitions and events to showcase themselves
Access to particular products / those not easily found in market
To sign up, download the form here, or email us at ripechefsclub@ripeme.com.
FAQ's:
Who can join the Ripe Chefs Club?
Any professional chef currently working in a restaurant or as a private chef, as well as chef bloggers & influencers that love sharing their recipes and foodie creations online
How do I sign up?
Please send us an email at ripechefsclub@ripeme.com for the application form
How long does it take to sign up?
Registration will take no longer than a week, once you sign up we will verify your chef status, and as soon as you receive your welcome email, you can start placing your orders!
How do I place my order?
Please call the office on 04 380 7602, we will verify your membership and take your order over the phone. You can also email us on orders@ripeme.com and we will call you back.
How do I pay for my order?
We will take your credit card details over the phone
How do I receive my order?
Orders will be delivered to the address given in your application form or you can request it be delivered to the Ripe Farm Shop in Al Manara
How long does it take to process my order?
Depending on your delivery location, we take a minimum of 48 hours. You can also request a Next Day delivery if you order before 3pm.
How do I sign up for a farm visit?
Please call us or email us and we will let you know our next tour date
I'm looking for a specific ingredient, can you please me find it?
Of course, just get in touch and we will do our best to farm it or source it for you
How can I showcase myself at the Ripe Markets, on the Ripe Blog, and on Ripe's social media?
Please call us or email us and we can chat about your ideas and how we can work together