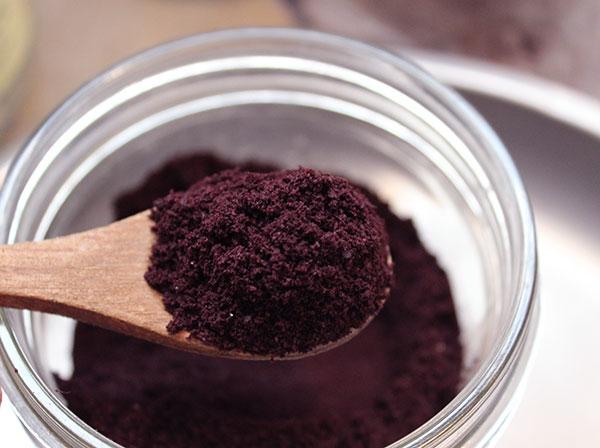 Acai Berry Powder Is Loved By Nutritionists, Foodies And Bloggers Alike And No Wonder When You Take A Look At The Amazing Benefits This Berry Offers. And at Ripe, we love our Ripe Acai powder added to our smoothies to give our mornings, a sometimes much needed, kickstart. A powerful superfood, native to South America, açaí has a complex blend of antioxidants including vitamins A and C, as well as minerals and amino acids. And it's crammed with calcium and omega-3 essential fatty acids.Açaí Berry Powder is loved by nutritionists, foodies and bloggers alike and no wonder when you take a look at the amazing benefits this berry offers.
The dark purple colour of Sunfood açaí comes from pigments called anthocyanins which may contribute to antioxidant defense support. This nutrient dense fruit has become a favourite among athletes and the health conscious.
And unlike other brands, Sunfoods Organic Açaí Berry Powder is not an extract nor a concentrate and it doesn't contain any fillers or additives. Sunfoods Organic Açaí Berry Powder is gently wild-harvested which contributes to the conservation of the delicate rainforest area and the açaí berry is freeze dried which preserves more nutrients than other methods.
As if you needed any more reasons to pick up a packet of Sunfoods organic açaí berry powder, its non-GMO and suitable for vegans.
Not sure how to incorporate açaí into your diet? Why note try our amazing açaí berry banana breakfast smoothie.
Ingredients
1 banana
half a cup of blueberries
1 tsp of açaí berry powder
250 ml of almond milk
1 tsp of bee pollen
Blend all ingredients together and enjoy!
To grab your ingredients you can visit one of the Ripe Farm shops open 7 days a week or order for delivery.